Wildlife Conservancy - Zimbabwe
Price Upon Qualified Request
Situated in the Save Valley Conservancy, Sango (60,000 hectares / 148263 acres / 600 km2) represents the largest privately-owned property in Zimbabwe; it is the rebirth of the purest fauna and flora in Africa after dozens of years of unprofitable cattle ranching. Sango comprises seven different habitats, and is an untouched wilderness teeming with wildlife, birds and insects. The Wildlife Conservancy will make a prestigious addition to your personal property asset portfolio with incredible lifestyle and conservation benefits, as well as potential for future development and expansion. 
La Dorita Farm - Paraguay
Price Upon Qualified Request
Truly unique to this area, this 13,897-acre scenic farm offers excellent water and many improvements. 78% is almost virgin forest and 22% in natural field, basically pasture palms with carnation grass in some areas. Improvements include consolidated internal roads, a bridge over a gorge (passage of heavy trucks and equipment), new fences (6 big cattle paddocks), repaired perimeter fences, a three-bedroom, two-bath house, water and cell service, three artesian wells, a new corral and pier.
Big Game Hunting Lodge Uruguay
Price Upon Qualified Request
Private and secluded, the main residence has eight bedrooms and eight bathrooms and beautiful views. In addition to hunting, the property offers recreational and tourism activities; trekking, fishing, horseback riding, etc. The area is full of hills with countless water courses and natural forests covered with indigenous vegetation. Various game include red deer, axis deer, fallow deer, Mouflons/Cimarrones, wild boars and chivos. The reserve is fenced with a game fence of 7.2 feet high.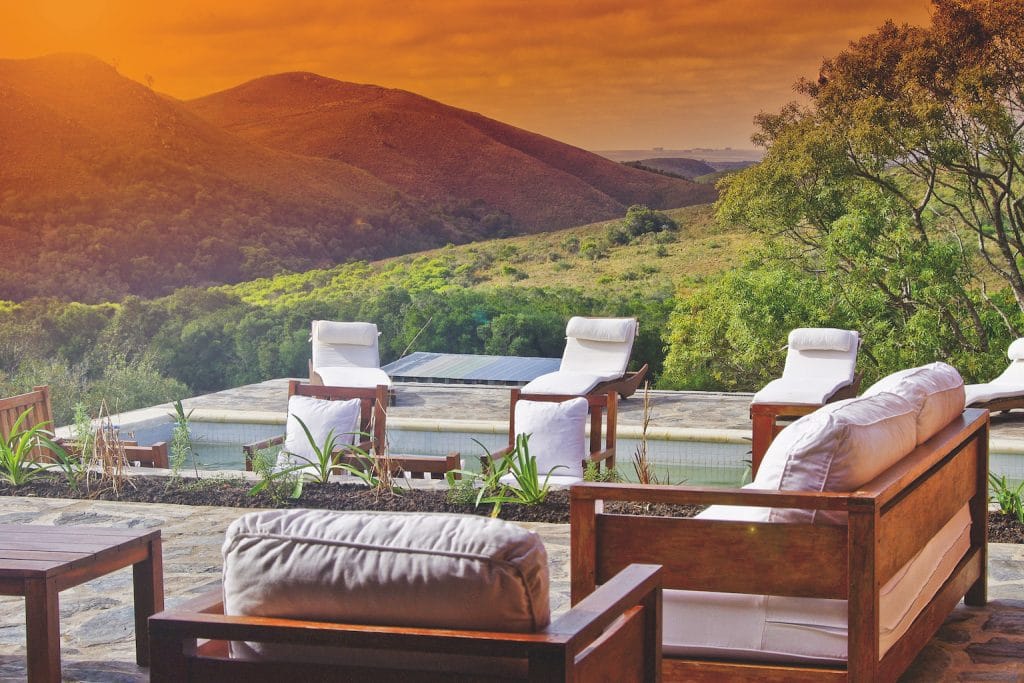 Price Upon Qualified Request
Offered turn-key with all equipment, fixtures, furnishings, vehicles/rolling stock and book of business in place, this ranch is less than one hour from the airport. There are 6,000± acres under a game-proof fence, 13 species of big game, untapped wingshooting for dove, pigeon, ducks and perdiz within 15 minutes, beautiful scenery and a classic estancia with modern amenities. This ranch is respected among international hunters and is complemented by an investor-friendly local government.
$13,675,000 – AFR Partner Property 
This ranch has been well-known for being a high quality cattle ranch and for many years raised Hereford cattle which were the main breed at that time. The average high temperature is 79 and low temperature is 56 degrees. Average rainfall is 13 inches. The topography of this ranch is relatively flat ranging from 2,670 to 2,780; however there are some panoramic views from several spots on the ranch mostly from the crown of the sand hills. The dunes are part of a vast set of dunes the lie east of the Pecos River between Fort Stockton and the New Mexico border. The Crane county sand formations are part of the ensemble that includes the Monahans sand hills and the Kermit dunes. There is currently a sand plant on the ranch that is now not operating.
The family member that has been operating the ranch for the last several years reports that cattle stocking rates depend primarily on rainfall. At this time the area has received above average rainfall year to date, so the native grasses and cover are in excellent condition. Shinnery Oak is prevalent over the entire ranch which provides excellent browse for the deer. Other vegetation consists of mesquite, cat claw, windmill grass, black grama grass, sand bluestem, and filaree.
SRK River Ranch -
San Saba, TX
$12,750,000 – AFR Partner Property
The Ranch property contains 2,582.24 acres of land located along northeast side of FM 500, about one mile north of CR 215 and approximately fifteen miles northwest of San Saba in San Saba County, Texas. The property offers a wide variety of topographical relief from gently sloping improved pasture to rolling and steeply sloping native pasture. The property provides a total change in elevation of about 180 feet with the main drainage features being Cottonwood Creek, Turkey Creek and the Colorado River. Sandy loam soils typical of the neighborhood are dispersed over the subject with numerous sandstone outcrops on the upland native pastures. Tree cover consists of a variety of oak, elm, hackberry, sycamore, willow, pecan and mesquite trees. The property has been well-maintained over time with very little cedar tree regrowth. It has a desirable mixture of land types with about 175 acres in open improved pasture, 10 acres in pecan orchard and the balance being in wooded native pasture. 
Lucky Penny Ranch - Oakalla, TX
$4,998,000 – AFR Partner Property 
Location: Approximately 45 minutes NW of Austin.
Description: The Lucky Penny is a spectacular 533 acre ranch that is an easy 40-45 minute drive from Austin. It's rare to find acreage with so much character and having such an abundance of surface water. Much of the cedar has been cleared, leaving a good hardwood cover of live oak, Spanish oak, and elm. Areas have been left untouched for game cover and there is approximately 100 acres of coastal or klein fields.
There is no shortage of water on the ranch. There is over 1 mile of Clear Creek frontage. Clear Creek meanders through the ranch and a concrete dam impounds a long stretch of clear water that is 6-8 foot deep in places. The creek is shaded by towering native pecans. In addition to the creek, there is a beautiful 6+/- acre lake that reaches depths of approximately 30 feet. The banks are clear of brush and there is a rock jetty and a concrete pad, for a picnic area. This blue water lake is made for swimming, canoeing, fishing, or jet skiing. It is stocked with bass, catfish, crappie, and perch. Catches of 10+ pound bass, 2 lb. 9 oz. crappie, and catfish weighing 20+ pounds have been reported. In addition to the surface water, the ranch has 3 water wells and rural coop water (Kempner Water Supply) provides water to the main house and guest lodge.
Lonestar Ranch - Montgomery, TX
$4,000,000 – AFR Partner Property
Country living close to Montgomery and Conroe/The Woodlands! Large custom built two story steel framed home tucked away in the trees and on a hill. Open floor plan well designed for entertaining or family time. Stunning island kitchen has lots of space to cook with two convection ovens and all Kitchenaid appliances. Large great room with stone fireplace opens to pool and outdoor kitchen. Three bedrooms plus a bonus/game room and a media room upstairs. Upstairs porch overlooks the pool with a misting system to keep you cool in the summer. Long asphalt driveway leads through existing hay fields. 3 car garage with industrial rubber flooring. 50 X 100 shop with concrete floor and 3 roll up doors. Horse barn has 2 stalls and 2 bays for storage. Historic dairy barn has water and power. 1600 feet of frontage on FM 2854. Ag exempt for hay. 350 foot deep well. Pond on the property. Back of the property is wooded with trails throughout. Look for the deer when you are out there!
Bentwater Farm - Montgomery, TX
$3,950,000 – AFR Partner Property 
Exclusive and unique Montgomery County property. Gated entrance off of Pearson Road, secluded behind a buffer of trees. Custom 2005 Jim Morris built 5,774 square foot home with 3 bedrooms, a media room, large office, sewing/craft room and screened in back porch with an outdoor kitchen that looks over the swimming pool. A butler's pantry and wet bar are near the media room. Separate air conditioned exercise room located off the master bedroom with it's own bathroom/shower. The pool has a beach entry, waterfall and recessed diving board. The house is surrounded with first class landscaping with a long concrete drive nestled between green pastures. 4 Car garage attached. Separate guest house. 1,100 sq/ft with 2 bedrooms and one bath. 5 stall barn with a one bedroom one bath living area on the second floor. Large barn, two ponds and scattered hardwoods throughout. Well manicured pasture with frontage on FM 1097. Currently used for cattle and horses. Beautiful rolling terrain.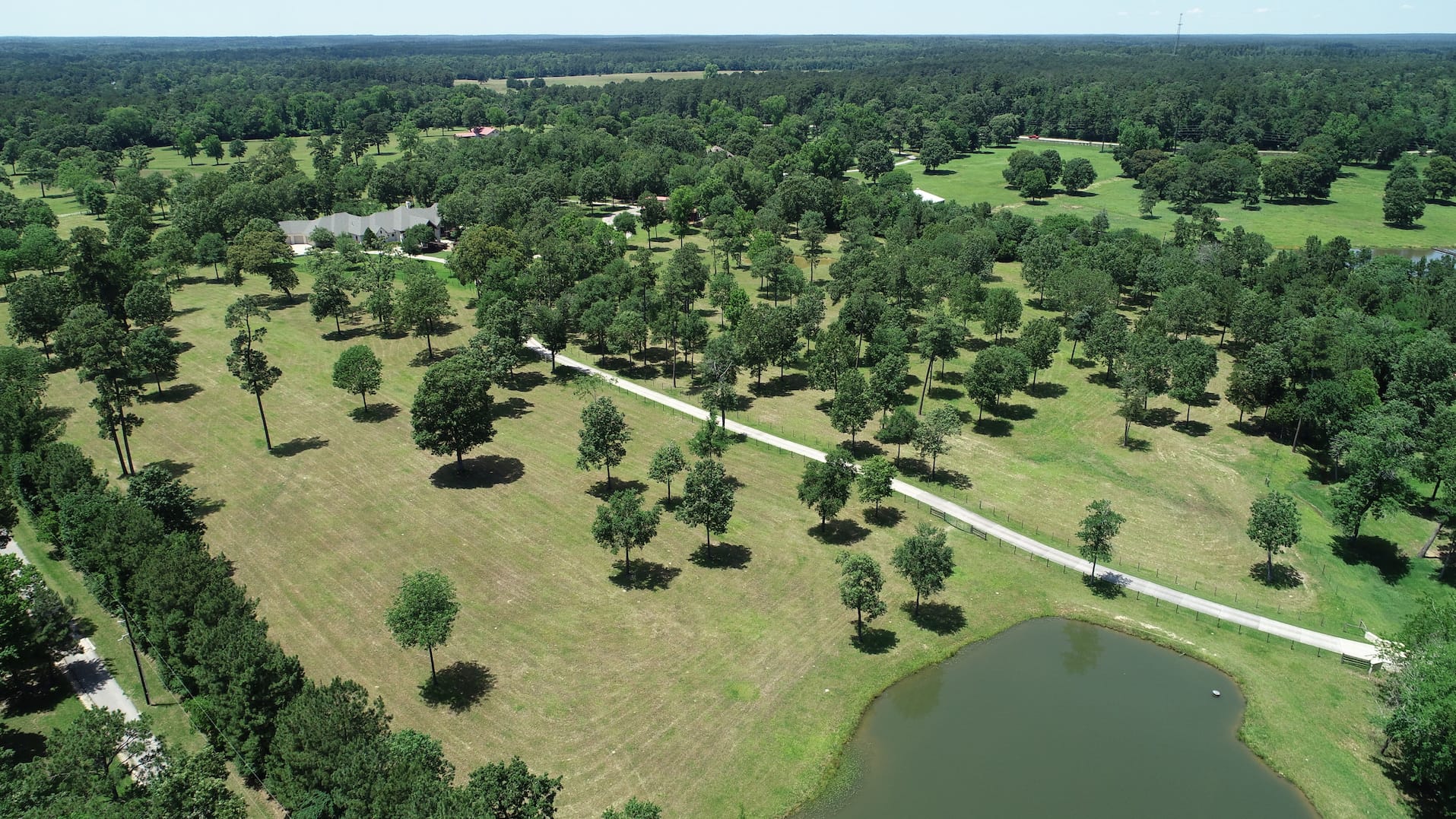 Comanche Oar Lock Ranch - De Leon, TX
$2,950,000 – AFR Partner Property
This is a premier equine training property but also offers great opportunities for the outdoorsman, farmer and rancher as well. The Shoemaker/Eddleman family has a long history of producing quality equine livestock. From humble beginnings almost one hundred years ago, Warren Shoemaker along with his grandson, Dan Eddleman, established a well known and respected blood line of horses. Today, Comanche Oar Lock Ranch serves as a training facility for the Shoemaker breed under the watchful eyes of the Eddleman family. This 312 acre ranch is conveniently located 1.5 hours from Ft. Worth, 1.5 hours from Abilene and 30 minutes to Stephenville.
Bagley Ranch -
San Saba, TX
$2,689,000 – AFR Partner Property 
The Bagley Ranch is located in San Saba County just southwest of San Saba. The eastern border has over 4,000 RR 1030 frontage.
The ranch has been blessed with an Artesian well that produces some of the best water you'll ever taste! The well could be drilled at a deeper depth to produce even more water if someone wanted a large scale irrigation system. This is a very fertile/productive ranch providing wheat pastures for harvest and cattle forage with approx. 260 tillable acres.
The Pecan trees are massive and plentiful with over 500 trees producing a substantial commercial crop, capable of 30,000lbs in a season. There's plenty of cross fencing to help manage grazing and separate livestock during farming operations. Also, a stout set of pipe working pens are in place for handling livestock. The ranch will carry 50 cows and their calves comfortably. If you want to feed calves on wheat, you can feed out 150 head. This immaculate well cared for ranch with little to no rock and its many diversified uses, make it one of the most desirable ranches in San Saba County.


Harmony Ranch - Kempner, TX
$2,300,000 – AFR Partner Property
Magnificent high fenced ranch only one hour to Austin. The property is located near Kempner and is a short 20-minute drive to Lampasas. The varied topography gives the land a lot of character and a feel of being bigger than it is. Elevations range from 1,020 to 880 feet. There are multiple sites with big hill country views. A seasonal creek meanders through the land and feeds a large pond. Catches of bass over 8 pounds have been reported. There is excellent tree cover consisting of live oak, Spanish oak, elm, pecan, mesquite, and juniper.
The ranch has been part of the Wounded Warrior program and the owner has brought in superior genetics that have produced 200+ class bucks.
The main home is around 100 years old and has been updated and expanded. There are 3 bedrooms, 2 baths, metal roof, CACH, rocked fireplace with wood burning insert, and Fredericksburg style stone exterior. The guest cabin has 1 bedroom, 1 bath, a large living/kitchen room, and metal roof. Other improvements include a wood frame office, a workshop, and a 3,600 sq ft metal barn with 220v and two 12x 14 rollup bay doors. The Harmony Ranch is would make a perfect legacy ranch, hunting/recreation ranch, or a corporate retreat.
$2,150,000 – AFR Partner Property 
Sanctuary can be found in this extraordinary hill country estate. Private and perfectly set in the sweeping vista and rolling hills between Blanco and Fredericksburg, a locale that has been treasured by generations of Texans. A gated estate that is comprised of 54.929 acres, and is easily reached via State maintained FM 1623. Being only 90 minutes from Austin, and minutes from may of the great Hill country destinations such as Fredericksburg- the viticulture of Capital of Texas. Luckenbach-of country music fame, Albert- of Texas dance hall lore, Blanco- believed the best small town in Texas, just to name a few. This is truly a legacy property, with no shortage of trails, gardens, are and history to explore. A true labor of love and masterwork of architectural and engineering expertise used to form a place like no other.
Esconidido Ranch - Gatesville, TX
$1,800,000 – AFR Partner Property
The Escondido Ranch, an incredible live water ranch for sale in Coryell County, is located just 15 minutes South West from Gatesville, providing high-style ranch living and commercial opportunities. An end of the road property, surrounded by large ranches. The land includes both spectacular hills and open meadows; all easily accessible by good ranch roads. Free flowing Cow House Creek; crystal clear, rock bottom pecan tree lined creek banks compliment a diverse tree canopy with hidden clearings, creating a park- like setting. It is also home to a nesting pair of Bald Eagles. Coryell County has a rich Native American history, explore for arrowheads along Cow House Creek. The ranch boasts a 3-acre private lake that is stocked with bass, perch and other native species, delivering abundant surface water and recreational opportunities such as swimming, canoeing and kayaking. All three homes water supply is currently being provided by Multi-County Water Supply, Gatesville, Texas and a private well with storage.
This high fenced ranch is home to native whitetail deer that have been improved by genetic introduction, plus turkeys, axis, fallow deer, oryx and black buck antelope to name a few. Hunting has been extremely limited and the number and quality of the animals is very high. The ranch headquarters occupies a commanding spot upon a ridge that provides a sweeping view of the surrounding Hill Country.
Circle Star Ranch -
Pontotoc, TX
$1,450,000 – AFR Partner Property 
The most pristine and picturesque ranch setting in this part of the world. Numerous oak trees, lush Bermuda pastures and immaculate improvement, all surrounded by tall granite hills. Situated in a small valley of the Texas Hill Country between Mason and Llano, this ranch features exceptional facilities for horse training/ breeding/ care/ entertainment and many other versatile uses. Lighted round pen, 8 paddocks with sheds, 17 stall-60 x 120 horse barn with a/c office & vet station, 15 stall show barn, 130 x 300 roping arena with 1200 sq. ft. covered observation deck & announcers stand w/ tack room, air conditioned kitchen, 40 x 80 trailer barn, 40 x 50 RV barn/shop, 25 x 40 equipment barn. Four water wells, 2 electric and 2 windmills with 12,000-gallon enclosed storage. Attractive 1.5 story, 3/2 brick personal residence built in 1988 with attached 2 car garage perfectly landscape. Rock guest house, 2/2 and open living area. Separate 5 bay detached garage (A/C) with a 20 overhang/carport, workshop/storage. Improvements are immaculate!
Tipps Top Ranch -
Burnet, TX
$1,289,000 – AFR Partner Property
Tipps Top Ranch is a private 67 +/- acre estate that is surrounded by large acreage tracts, with the largest neighbor being 2400+/-acres. Completely high fenced with a service entrance and an additional automatic gated entrance to the house for convenience along with keypad for your invited guests. This is a perfect location in the Hill Country being within 1HR drive to Austin. When you enter the gate, you will drive up to a welcoming 4 Bedroom 3 Bath w/study, Tuscany Ranch Style Custom Home. The well thought out 3,069sqft home is the perfect combination of stone, wood, steel an abundance of windows.
Only some of the acreage has been cleared, leaving a natural habitat for the wildlife which along with the Axis is Whitetail, Turkey, Dove, Fox, Bobcat, Racoon and more. The cover is a good mix of Live Oak, Elm, Cedar with some scattered Persimmon and Mesquite. There are rugged atv/utv trails through the ranch which make for fun on the four wheelers or side by side. Also, there are some great hunting spots cleared out. The property is ag exempt under a wildlife management which helps keeps taxes low.